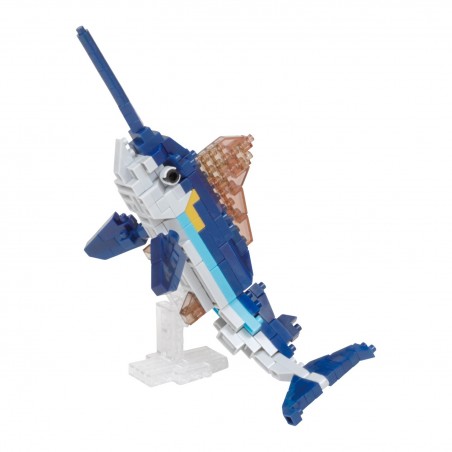  
Marlin NBC-352 NANOBLOCK the Japanese mini construction block | Miniature series
Warning! Small parts - choking hazard.
Not suitable for children under 3 years.
NANOBLOCK Mini series: Marlin NBC-352
Product description: NANOBLOCK, the original line of construction toys by Japanese manufacturer Kawada. The smallest nanoblock measures just 4×4×5mm, which is about 1/6 the size of traditional blocks. Perfect for a more precise and detailed construction.
MARLIN NBC_352 from the Mini series. The marlin belongs to the family of spearfishes (not to be confused with the swordfishes) and has its habitat in warmer areas of the Atlantic and Pacific Ocean, and the Mediterranean Sea. The largest among them are the blue marlins, which can grow to lengths of up to 5 meters.


This set contains 170
pieces. Difficulty Level 2.
Final size : 61 × 140 × 70 (mm)
Warning: 
This product contains small parts,

 which may pose a choking hazard to infants and small children

. Recommended for ages 12 and up. To be used under adult supervision.
Customers who bought this product also bought: