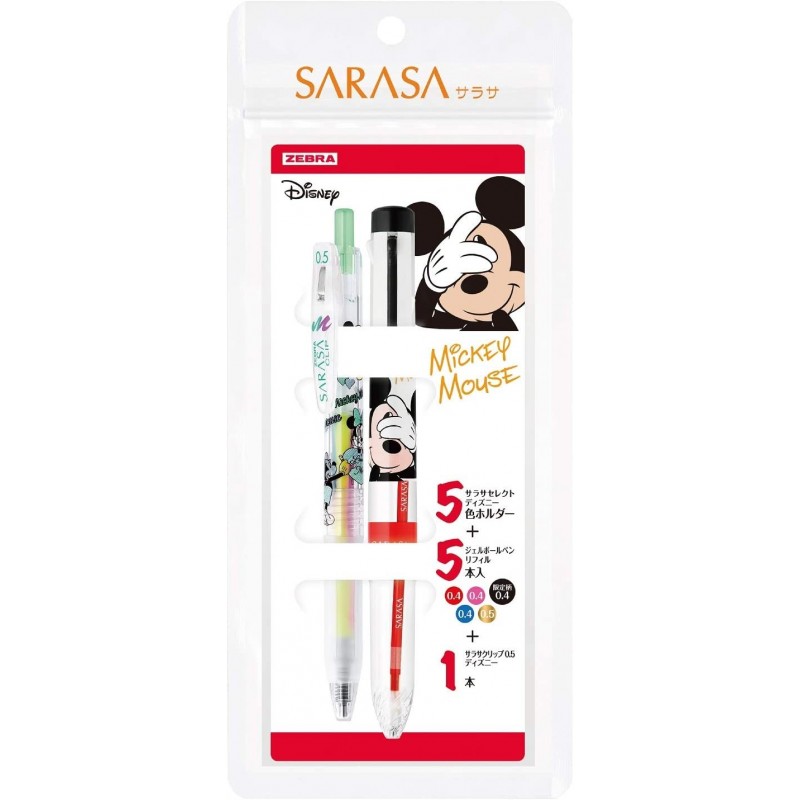  
Sarasa Select Disney "Mickey Mouse" Set (rechargeable) SE-S5A20-MC by Zebra
This Sarasa Select Disney Set "Mickey Mouse" with 2 mechanical pens includes:
1× "Sarasa Multi" 5-color mechanical pen (lead holder)
5× compatible ink refills in black, red, cobalt blue, pink and gold
1× "Sarasa Clip" Marble Ink mechanical pen in the color variant "Mint Shower"
Both the Sarasa Multi holder, the black refill and the Sarasa Clip Marble Ink pen are limited special editions with a Mickey Mouse motif.

Model Number: SE-S5A20-MC
The pens in this set are particularly suitable as a gift thanks to the cute Mickey Mouse motif. The Sarasa Select 5-color pen has five refills included, with high quality ink in vivid colours. The Marble Ink pen is also equipped with a special clip that works like a clothespin and can be easily attached to clipboards or documents - so you never have to worry about a broken clip!