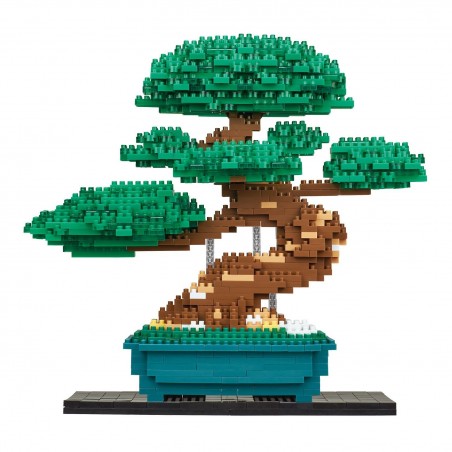  
Pine Bonsai Deluxe Edition NB-039 NANOBLOCK the Japanese mini construction block
NANOBLOCK Sights to see-Series: Pine (Matsu) Bonsai Deluxe Edition NB-039
Warning! Small parts - choking hazard.
Not suitable for children under 3 years.
NANOBLOCK Sights to See series: Pine Bonsai Deluxe Edition NB_039
Product description: NANOBLOCK, the original line of construction toys by Japanese manufacturer Kawada. The smallest nanoblock measures just 4×4×5mm, which is about 1/6 the size of traditional blocks. Perfect for a more precise and detailed construction.
PINE BONSAI DELUXE EDITION NB_039 (Matsu)from the Sights to See series.
Bonsai is a Japanese art form using cultivation techniques to produce small trees in containers that mimic the shape and scale of full size trees.
This set contains 1130 pieces. Difficulty Level 5.
Final size: 195×190×115 (mm)
Warning: This product contains small parts, which may pose a choking hazard to infants and small children. Recommended for ages 12 and up. To be used under adult supervision.
Customers who bought this product also bought: